AUC Holds PodFest Cairo 2021 Virtually
For its second edition of Egypt and Africa's first podcasting conference, AUC held PodFest Cairo 2021 virtually, bringing together more than 70 of Egypt's podcast listeners and creators for a two-and-a-half-hour event featuring conversations focused on producing podcasts in English and Arabic. 
"The podcasting scene is growing in Cairo and Egypt, and we want to continue to share resources to encourage the production of podcasts," said Kim Fox, professor of practice of journalism and mass communication and the conference's founder and organizer  "We are hoping to host other online events in Arabic and English in the coming months and are more hopeful to host PFC 2022 in person next year."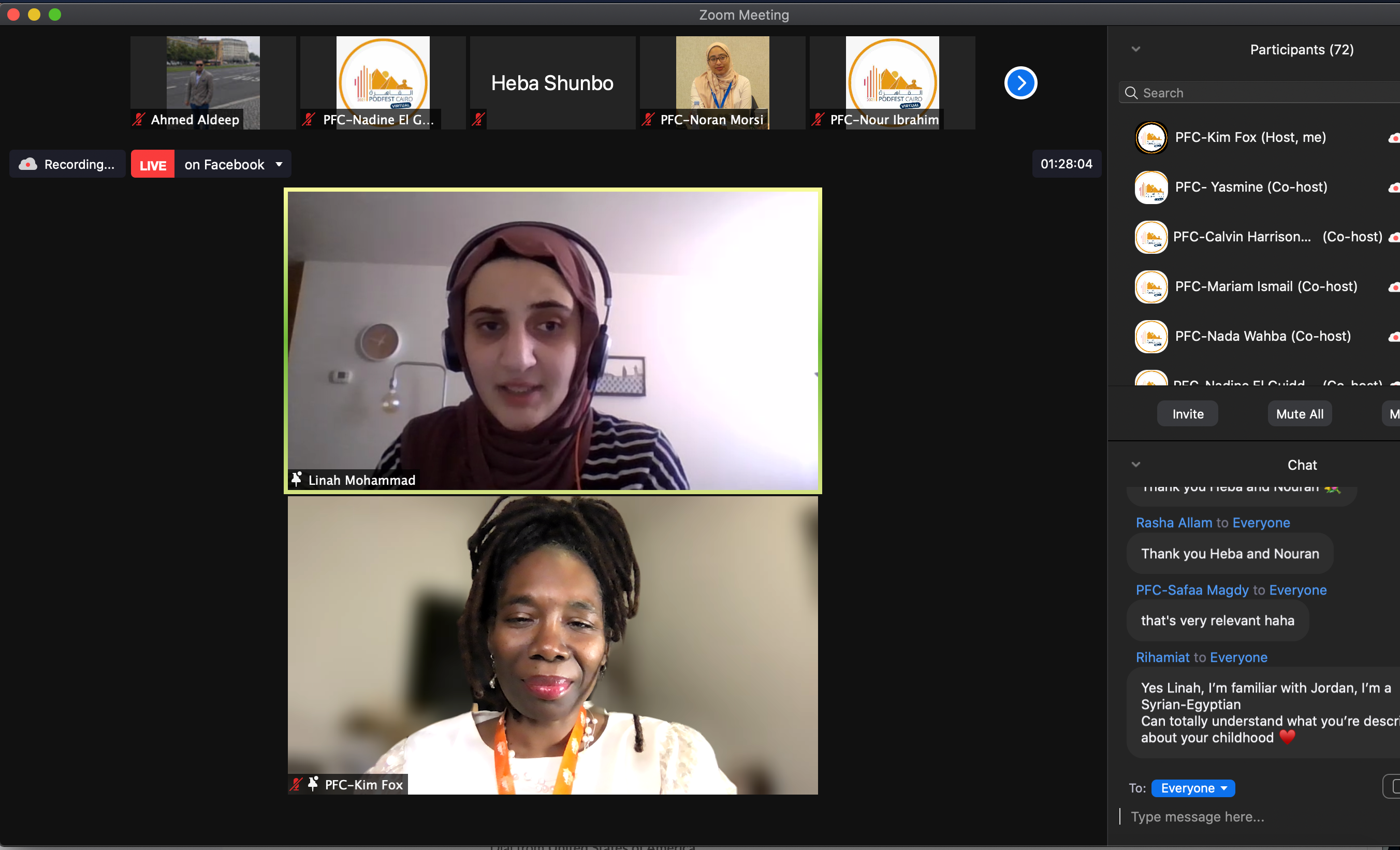 The lineup featured keynote speaker Linah Mohammad from the Washington Post's Post Reports Podcast, who focused on the power of podcasts by reflecting on her own journey. Mohammad spoke about growing up in Jordan, moving to Texas and her introduction to audio via National Public Radio (NPR) in the United States. Ending her segment, she further discussed her recent audio essay, "Bachelorette in Arlington" that was published on This American Life.
Other sessions included "The Road to a Successful Podcast" with Noran Morsi (MMJ 2020), host and producer of the recently launched Egyptian Streets Podcast along with Heba Shunbo, the host of Mommy's Happy Hour Podcast, which launched last year. They spoke of the successes and challenges they've experienced with their new podcasts, while Tala Eissa from Sowt spoke of the challenges of de-centering English when it comes to podcasting.
In one of the last segments of the event, which was hosted by AUC's Department of Journalism and Mass Communication,several local podcasts and podcasters were spotlighted, a new segment introduced to the conference this year. PodFest Cairo 2021 later concluded with three rounds of speed networking, where participants joined breakout rooms and networked with a group of podcasters and podcast listeners.

The majority of the PodFest Cairo team are AUC alumna, and likewise, so were the moderators of the event. Currently, the PodFest Cairo team is available for consultations.
For updates, follow PodFest Cairo on Instagram, Facebook, Twitter, and LinkedIn as well as the #PodFestCairo hashtag. Watch the archive of PodFest Cairo 2021 here.